It's good for your mind. It makes you think.
Retirement Home Resident, Calgary
"I can't wait to get a dancing program started here. Your session truly inspired me. Thanks!!!"
Rochester, NY
You don't have to stand up to do it. It's good. Very good.
Nursing home resident, Calgary
"Sit't'N'Dance is an exceptional resource. I have regularly incorporated it into my Therapeutic Recreation programs for Adult Day Programs...highly adaptable, user-friendly resource."
Alberta, Canada
"The staff here now have a new found burst of energy towards using music in their programs. They are fighting over who can use the CD first. It is always refreshing to see them having so much fun..."
Ontario, Canada
It gets you alive!
Resident at retirement home, Calgary
"It's something they can do. There's so much they can't do."
Nursing home staff member.
So much rhythm, You gotta GO!
Dementia Unit Resident, Calgary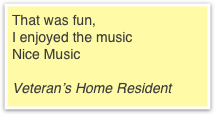 Hi, I just had to tell you that my residents loved the Sit'N'Dance program. We did it today and they can;t wait to do it again they went away singing and humming the tunes. They are all ready to make up some moves to other songs that they know I can't wait. What a hit thank- you so much. "
Creemore Ontario
"It gives us joy. We need joy in exercise."
Nursing Home Resident, Calgary
"It's wonderful, thank you That was really good - I used to dance a lot. It's good to be able to move to music"
Senior's retirement home resident.

"A staff member was at one of your seminars and came back with raving reviews."
Ontario, Canada
"I don't think you realize how much we do appreciate it."
Resident with dementia, Calgary
You want to move when you hear the music.
You do more than in the exercise group.
You just want to get with it.
Resident at senior's lodge, Calgary
I heard music coming from down the hall and thought what lovely music. It was from your kit.
Recreation specialist provider ,
Tofield, Alberta
It's not like the other.....it's lively. And even if you don't know how to dance, if you know how to follow the rhythm you can dance.
Staff at memory care unit.
Calgary